THE REVOLUTION BEGINS WITH A CHARGE.
The future of mobility is moving beyond combustion to a place where performance, design, and efficiency define the new normal. Where plug-in hybrids and full electric vehicles do more than turn heads, but change minds. Where high-performance electric mobility is not just attainable, but sustainable. That's the world of the future – the world of BMW i.

INTRODUCING THE ELECTRIC SIDE OF BMW.
You've never met an electric vehicle that looks – or drives – like this. Each BMW i vehicle is built to harness exhilarating electric power, combining pure performance with innovative eDrive technology. The sleek, futuristic BMW i8 Coupe – and the first-ever i8 Roadster – turn the tables on conventional plug-in hybrid design while delivering a massive 420 lb-ft of torque. And the incredibly efficient BMW i3 and i3s are among the fastest BMWs off the line, thanks to the instant, smooth, and quiet acceleration of an all-electric engine.
AMAZINGLY LIGHT. INCREDIBLY STRONG.
Carbon Fiber Reinforced Plastic (CFRP) is as strong as steel, but only half the weight – which is why it's usually found in integral components of racing cars. That's not the case with the BMW i3 and i8, both of which are built on a framework of CFRP. By mass-producing this revolutionary material, BMW ensures that every i model benefits from all the power under the hood – translating to responsive acceleration, impressive handling, and undeniable efficiency.
THE FRAMEWORK OF THE FUTURE.
Designing for electric vehicles is more than swapping out engines. BMW created LifeDrive, a unique architectural concept purpose-built for electric vehicles. The two-part construction helps to reduce weight and increase range, while adding to a feeling of open spaciousness and comfort in the cabin.
INNOVATION STARTS WITH i.
Sustainability means more than emission-free driving. It starts in Leipzig, where BMW i vehicles are assembled at one of the world's most modern and eco-friendly factories. The process is entirely powered by the factory's own wind turbines. And the Moses Lake plant – one of the largest CFRP plants on earth – draws its energy from locally-sourced hydropower. Producing an i3, from first bolts to final inspection, takes 50% less energy and 70% less water.1
1 In comparison to the industry-leading BMW Standard.
SUSTAINABLE TO THE CORE.
The promise of energy efficiency extends beyond manufacturing to the raw materials that make up every BMW i vehicle. Open-pore eucalyptus wood is hand-selected not only for its beauty, but also for its status as a sustainable resource. And the fine leather upholstery is tanned using olive leaf extract, a natural process that protects against fading and wear.
ELECTRIC LIVING COMES TO YOU.
Make the seamless switch to electric driving with flexible, innovative BMW charging programs. Designed to satisfy your every need for home and public charging, all BMW i vehicles come with an occasional use cord, plus the option to have a home charging station installed. A vast network of over 44,000 public charging stations2—plus 2 years of free charging with your ChargeNow card—improve your potential for adventure.
2 According to ChargePoint website as of January 2018.
The promise of change is what makes the future exciting. And the more we innovate, the more opportunities we find to create thrilling new experiences. From the fully electric world of BMW i to the powerful and stylish lineup of iPerformance plug-in hybrid vehicles, our goal is to create a future that delivers more.
We're not dreaming. We're doing. Discover BMW iPerformance vehicles, or sign up to stay informed with the latest from BMW Innovation.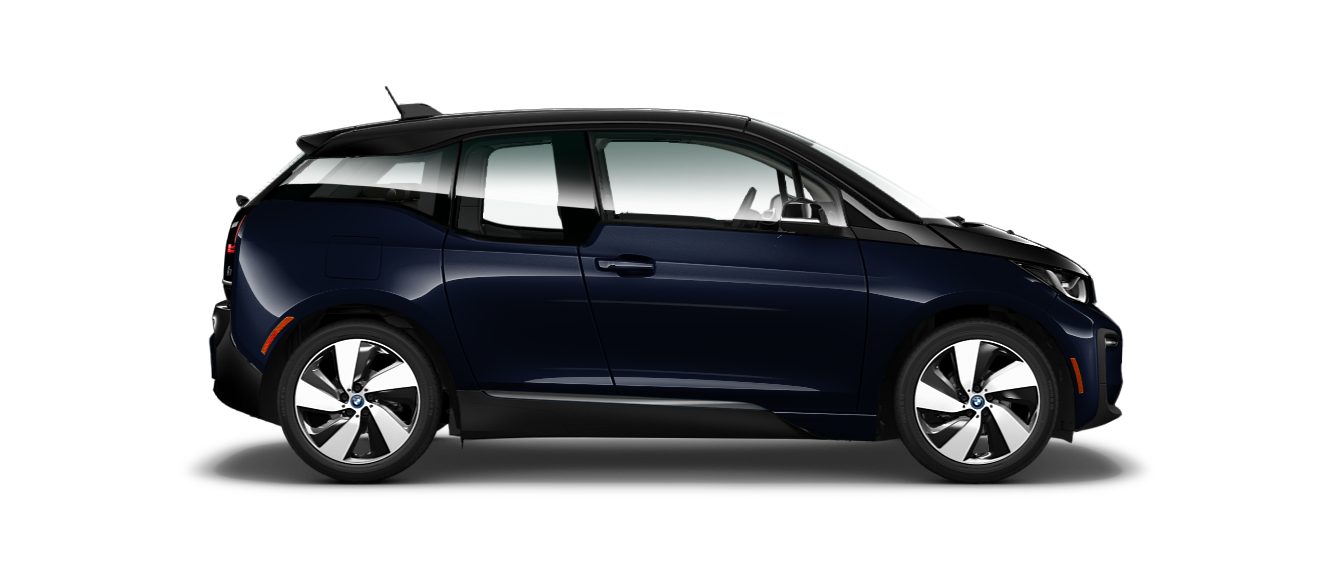 The only EV that performs like a BMW.

Feel the power of pure electricity in the 2019 BMW i3 and i3s. With their exceptional driving dynamics, increased battery capacity, and Range Extender models for longer drives, these compact BMWs are changing the future.
3 MSRP excludes destination & handling fee of $950, tax, title, license, and registration. 2019 BMW i3 shown.
BMW i8
Starting MSRP $147,5005
Lease for $1,779/mo6
Starting MSRP $147,5005
Lease for $1,779/mo6
Shatter expectations.

This is no ordinary sports car. The BMW i8 Coupe and i8 Roadster are the ultimate evolution of plug-in hybrid technology. Housed in sleek, sculpted frames that scream power, these design icons exude energy, efficiency, and exhilaration in every moment.
5 MSRP excludes destination & handling fee of $950, tax, title, license, and registration. 2019 BMW i8 shown.
6 Lease offer:
$1,779 PER MONTH FOR 36 MONTHS
$8,704 DUE AT SIGNING
SUGGESTED DEALER CONTRIBUTION OF $4,850
Offer not valid in Puerto Rico. Lease financing available on new 2019 BMW i8 Coupe models from participating BMW Centers through BMW Financial Services through January 02, 2019, to eligible, qualified customers with excellent credit history who meet BMW Financial Services' credit requirements. Monthly lease payments of $1,779 per month for 36 months is based on an adjusted capitalized cost of $138,880 (MSRP of $152,195, including destination and handling fee of $995, less $6,000 customer down, $0 security deposit and suggested dealer contribution of $4,850 and $2,465 Lease Credit). Actual MSRP may vary. Dealer contribution may vary and could affect your actual lease payment. Cash due at signing includes $6,000 down payment, $1,779 first month's payment, $925 acquisition fee and $0 security deposit. Lessee responsible for insurance during the lease term, excess wear and tear as defined in the lease contract, $0.30/mile over 22,500 miles and a disposition fee of $350 at lease end. Not all customers will qualify for security deposit waiver. Tax, title, license and registration fees are additional fees due at signing. Advertised payment does not include applicable taxes. Purchase option at lease end, excluding tax, title and government fees, is $89,795. Offer valid through January 02, 2019 and may be combined with other offers unless otherwise stated. Models pictured may be shown with metallic paint and/or additional accessories. Visit your authorized BMW Center for important details. ©2018 BMW of North America, LLC. The BMW name, model names and logo are registered trademarks.